Letter to the Editor

Open Access
Translational web robots for pathogen genome analysis
Microbial Informatics and Experimentation
2011
1:10
Received: 20 September 2011
Accepted: 31 October 2011
Published: 31 October 2011
In this letter, we present the concept of translational computational web robots that aims to improve the clinical knowledge utilization and microbiology test interpretation. This development promise to accelerate discovery by searching and will be challenging the position of observation and experimentation as the most productive means of discovery.
With a shift in the 'wet lab' bottleneck from data generation to data analysis, there has been a reinvigoration of the rusty partnership between biomedical and computer scientists. One of the most appealing targets for collaboration has been whole genome analysis, especially the linkage of new sequencing data with the wealth of unstructured information captured in biomedical literature. This endeavour holds particular promise for translational medical microbiology, where a potentially unlimited number of sequenced microbial genomes might be coupled with the breadth of infectious diseases literature. However, generation of meaningful associations between literature and sequences demands novel analytical approaches. We argue that web robots, initially called 'intelligent web crawlers', could be invaluable to microbiologists for such analyses. Many business intelligence applications are already exploiting web robots or autonomous programs that methodically traverse the Internet by following hypertext links and then analyse the results to gain knowledge that enables fulfilment of new tasks. Today, microbiologists often spend more time looking at nucleic acid sequences than at colonies on Petri dishes. Therefore, it seems appropriate to consider robots that could combine the analysis of publicly available genomes of pathogens with the published body of knowledge wide analysis of infectious diseases. Figure
1
illustrates a process flow and methods that might be employed by web robots designed to become intelligent assistants to microbiologists.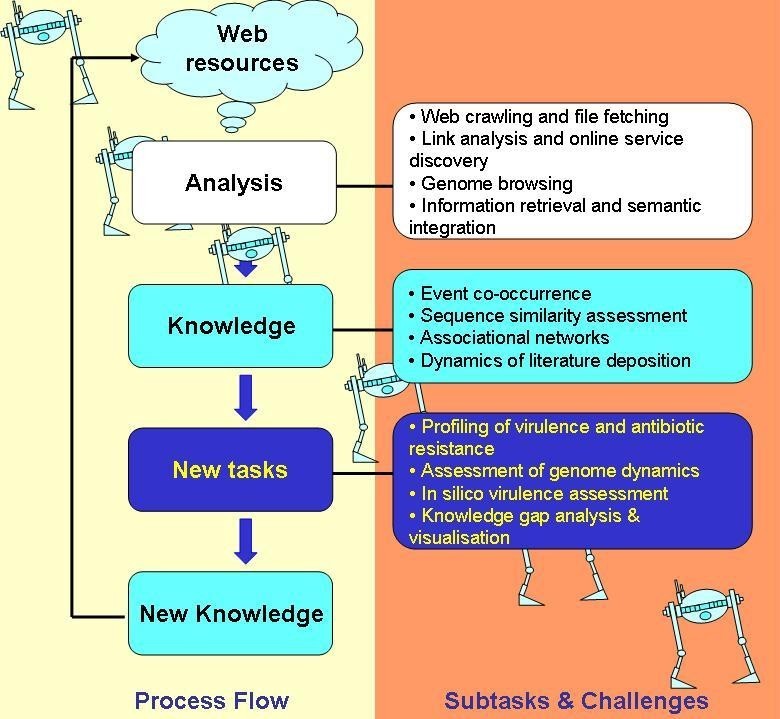 (1)
Centre for Infectious Diseases and Microbiology-Public Health, Institute of Clinical Pathology and Medical Research, Westmead Hospital, Sydney, New South Wales, 2145, Australia
(2)
Sydney Emerging Infections and Biosecurity Institute and Sydney Medical School-Westmead, University of Sydney, Sydney, New South Wales, 2006, Australia
(3)
Centre for Health Informatics, Australian Institute of Health Innovation, University of New South Wales, Sydney, New South Wales, 2052, Australia
© Sintchenko and Coiera; licensee BioMed Central Ltd. 2011
This article is published under license to BioMed Central Ltd. This is an Open Access article distributed under the terms of the Creative Commons Attribution License (http://creativecommons.org/licenses/by/2.0), which permits unrestricted use, distribution, and reproduction in any medium, provided the original work is properly cited.